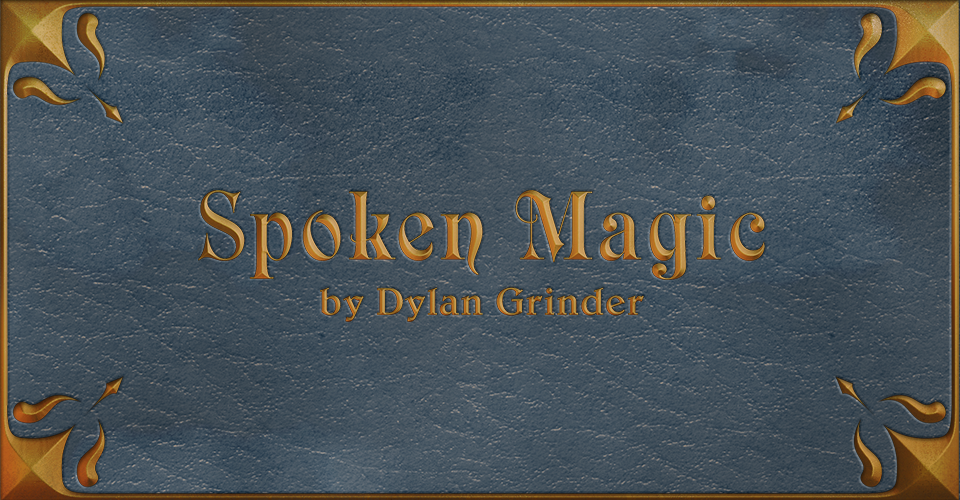 Spoken Magic
You carry within you a great power. Power that can shape the land, and safeguard you against its waiting dangers. But to wield that power, you must give it shape and meaning through your words.
Spoken Magic is a prompt-based collaborative storytelling game for one to four players. The game guides you on a journey through magical lands where you will encounter strange dilemmas that can only be solved through magic— a process that has players sharing their words of power to craft a spell appropriate for the task. Throughout this journey you will investigate the purpose of magic, explore the conflicting desires for safety and heroism, and learn the true nature of your very own magic words.
This game was designed, written, and illustrated in under 24 cumulative hours for the March of the Wizards 2019 game jam hosted by the RPG Design Friends as part of Twelve Months Twelve Jams (#12jam).
Roll20 Edition
The Roll20 Edition comes with everything you need to play Spoken Magic with a virtual tabletop. Simply select the module when starting a new campaign, and you'll be ready to go with prebuilt decks, rules handouts, and a digital playmat.
Available exclusively from Roll20.
Community Copies
You can help fund free copies of this game for those who can't afford it by donating to my ko-fi.
Purchase
In order to download this game you must purchase it at or above the minimum price of $15 USD. You will get access to the following files:
Exclusive content
Support this game at or above a special price point to receive something exclusive.
Community Copy
If you are marginalized or unable to afford this game, you are welcome to claim a free community copy. These are made possible through the contributions of the community to my ko-fi.
Comments
Log in with itch.io to leave a comment.
Just played this last night, and what a weird and wonderous magical journey we had!

I put this into tabletop simulator and played a round by myself with different characters in my story as players. This is such a cool game! The prompts are great. Everything is vague and symbolic enough to prompt interpretation, but there are enough little similarities that let you connect things and find patterns if you want. Very cool. I had a lot of fun with it.

Hey hon, I got this with the Trans Witches are Witches bundle and I don't think I got the PDF, just the card decks. I screenshotted all the stuff I got in my download.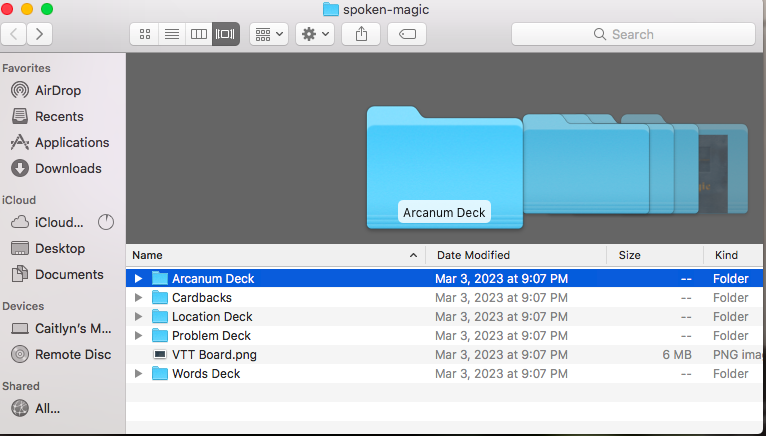 Hey there! The PDF and the card files zip are two separate files; you can grab the PDF from the downloads page. Hope this helps!
Hi! I bought this game through the Trans Witches are Witches bundle, and I'm wondering how to access the Roll20 version so I can play with my friends online- do I have to get that separately?
The prebuilt Roll20 version is only available through their marketplace, but the Card Files zip included here has everything you need to get a game set up manually if you prefer!
Oh ok cool! I'll see if I can play around in Roll20 and make it happen :) Thanks so much your game is beautiful!!
We played this during one of our charity games in 2020, and apparently I never left a comment. So I'm leaving it here now. We had a lot of fun!
What a fun session, and a wonderful org to support! Thanks for sharing your playthrough 😊
This is a really fun game – I played it with a group of friends and one of them even described it as her favourite ttrpg experience to date (and we've played quite a few). The looser structure of the game and very evocative prompts create a great space for creativity. In my game, they allowed us to tell a story filled with moments of cooperation and conflict, melancholy and comedy among our motley crew of wizards. Definitely recommend!
A wonderful prompt-based story game with very evocative imagery. The places are all mystical and strange, as are the stories you can tell within them.
The game leans melancholy, but a single success can be a moment of joy. Play with friends for maximum moods.